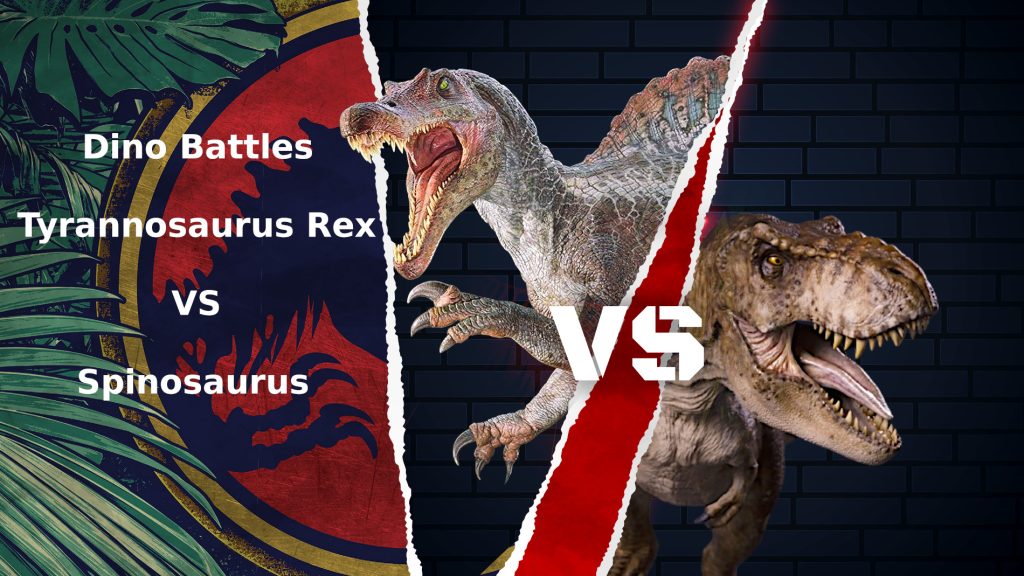 Welcome to a prehistoric showdown between two of the most fearsome creatures to have ever walked the Earth: the Tyrannosaurus Rex and the Spinosaurus.
These colossal predators, which lived millions of years ago during the Late Cretaceous period, were known for their massive size, razor-sharp teeth, and ferocious hunting instincts. Although both were apex predators in their respective habitats, the question of which one would come out on top in a fight has long been a subject of debate among paleontologists and dinosaur enthusiasts. In this article, we will explore the strengths and weaknesses of these prehistoric beasts, as well as examine their physical and behavioral characteristics, to determine who would emerge victorious in an imaginary battle between a T-Rex and a Spinosaurus.
Our first contender is the Tyrannosaurus Rex.
The Tyrannosaurus Rex, also known as the "T-Rex," was one of the largest land predators that ever existed. It lived around 68-66 million years ago during the Late Cretaceous period and could grow up to 40 feet long and weigh up to 9 tons. Its skull alone could measure up to 5 feet long, and it had a pair of small, two-fingered arms.
The T-Rex was an apex predator, meaning that it was at the top of the food chain in its ecosystem. It likely hunted other large dinosaurs, using its powerful legs to chase them down and its sharp senses to track them.
One of the T-Rex's most distinctive features was its large, powerful jaw. Its bite force has been estimated to be one of the strongest of any animal that has ever lived, capable of exerting a pressure of over 12,000 pounds per square inch. Its teeth were also long and jagged, designed for tearing and crushing flesh.
The T-Rex's tail was also a formidable weapon, with strong muscles and vertebrae that could help it to balance and turn quickly, as well as deliver a devastating blow to any attacker or prey.
Danger stats
Tyrannosaurus Rex
Our second contender is the mighty Spinosaurus. The Spinosaurus was a large carnivorous dinosaur that lived in the same time period and it was gloriously big with its estimated length of up to 50 feet and its weight of up to 23 tons.
The Spinosaurus was a semi-aquatic dinosaur, and it likely spent a significant amount of time in and around rivers and other bodies of water. It had long, narrow jaws filled with sharp, conical teeth that were perfect for catching fish and other aquatic prey. However, it also likely hunted on land, and some evidence suggests that it may have been able to prey on other large dinosaurs as well.
Like the T-Rex, the Spinosaurus had a powerful jaw, but its snout was longer and more slender. Its teeth were also long and pointed, and it may have used them to impale and hold onto its prey.
The Spinosaurus' front limbs were much longer than the Tyrannosaurus Rex's limbs but is estimated that they had similar strength.
The Spinosaurus also had a strong, muscular tail that was likely used for swimming and navigation in water but could also have been used as a weapon in combat or hunting on land.
From the aforementioned statistics, it is clear that both dinosaurs were formidable and lethal in their own right, and a hypothetical encounter between them would heavily depend on the environmental factors of their meeting. For instance, in a dry environment with ample vegetation, the T-Rex's relatively smaller size and enhanced manoeuvrability would give it an edge over the Spinosaurus. Its acute sense of smell would also enable it to detect the Spinosaurus from afar and mount a surprise attack.
However, in a wet environment, the Spinosaurus' aquatic adaptations and superior size would give it an advantage over the T-Rex. Its ability to swim and navigate in water, coupled with its long, sharp claws, would allow it to subdue the T-Rex with relative ease. In essence, the outcome of a hypothetical battle between these two apex predators would depend on various environmental and situational factors that would impact their respective strengths and weaknesses.
In conclusion, while a hypothetical battle between the Tyrannosaurus Rex and the Spinosaurus may be the stuff of legends and fantasies, it is important to remember that these creatures once terrorized the earth millions of years ago and were the apex predators of their time.
Despite their differences in size, morphology, and hunting strategies, both dinosaurs were fierce and lethal in their own right, and it is impossible to determine with certainty who would emerge victorious in a battle between them.