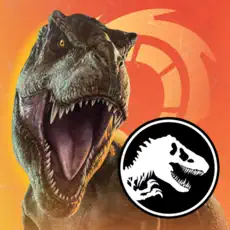 Finally, the newest version of the Jurassic World Play app (formerly known as Jurassic World Facts) is now out and we can finally start unlocking the Epic Evolution dinosaurs and enjoy the new features. Let's dive into what's in store for all dino nerds except the new app name:
– New and Improved Design: Although a settle the layout changes are quite stunning and it looks like a brand new app other than just a minor update. There is a new epic loading screen and unlock animations, making your dinosaur research not only informative but visually captivating.
– Unlock the Epic Evolution Collection: The Epic Evolution collection is officially ready to be unlocked! With detailed information, high-quality visuals, and intriguing facts, you can become a true dinosaur expert.
– Introducing "Ride 'N Rampage" Game: We are also presented with a new game in the Game section of the app. The "Ride 'N Rampage," allows you to become Owen Grady and rampage through the level with your bike. But that is not all, when you ramp up your game as Owen you will unlock the Allosaurus and continue the rampage  wrecking havoc everywhere.
If you haven't already, make sure to update the app to access all these fantastic features. For those who are new to the world of Jurassic World Play, it's the perfect time to join the adventure. Download or update the app now and step into the extraordinary world of dinosaurs.
Get ready to unlock, explore, and embark on epic adventures in a world where dinosaurs rule supreme. Enjoy the journey!
Stay tuned for more updates as we continue to upload new DNA Scan Codes and enhance your dinosaur experience.